Our Locations
Explore More Ways To Enjoy Your Adventure — 
 with five Cannabis Nation Dispensaries located
everywhere you want to be in beautiful Oregon.
Cannabis Nation Dispensaries
 Enjoy the ability to place your order online for same-day in store pick-up. We also offer Curbside Pick-Up for our customers, just call your preferred location. 
Beaverton
15915 NW Schendel Ave #104
Beaverton, OR 97006
503-430-5909
Gresham 
1500 NE Division St
Gresham, OR 97030
503-492-6159
Oregon City
1128 Main St
Oregon City, OR 97045
503-305-8073
Seaside
550 S Roosevelt Dr
Seaside, OR 97138
503-717-5565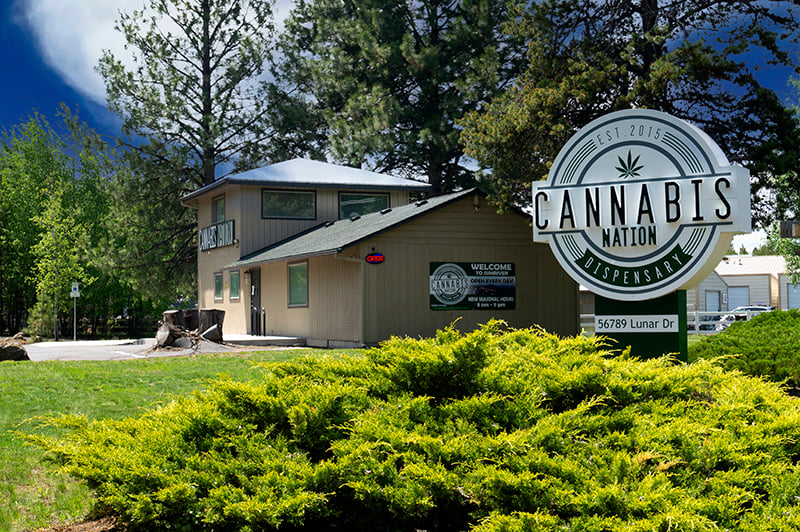 Sunriver
56789 Lunar Dr
Bend, OR 97707
541-241-7380
Cultivation
IG @cannabisnationcultivation
Gresham, OR 97030
503-492-6159
Cannabis Nation Cultivation
With 20,000 feet of growing space in one building, Cannabis Nation Cultivation houses the entire lifestyle of our cannabis plants under one roof. In fact, for the exception of our concentrates, all Cannabis Nation products are produced and packaged at our grow facility.
Our canopy was built for a production-level scale, allowing us to harvest 160-300 pounds or more of cannabis every month with 48 strains in regular rotation at each of our five dispensaries.
Our Indoor Cultivation implements three significant steps to stay sustainable:
1. Track and limit the use of phosphorous and nitrogen to reduce ocean dead zones.
2. Sanitize and isolate all grow rooms to reduce the use of pesticides. 
3. Maximize energy efficiency with specialized lights, system automation, and remote control access. 
Conveniently located in the PDX Metro area, along the coast, and on the river!